A World of Protest: UNIS Reacts to Racial Injustice
UNIS Students Provide Global Perspective on U.S. Protests
From Minneapolis to Memphis, Louisville to Los Angeles, Tallahassee to Toronto to Tokyo, Seoul to Sydney, London to Le Havre, outrage over racial violence has ignited protests worldwide in support of Black Lives Matter. It's well documented that racial discrimination has been deeply intertwined with American laws and practices since the era of slavery.
As the movement against racial injustice grows outside of the U. S., countries who have their own complicated history have added their unique take on the Black Lives Matter movement. In fact, protests have become an increasingly common way for the public to express their dissent. At our school, students come from all over the world and have witnessed protests in many forms, which gives them a unique perspective on the current BLM movement.
Uma Vergara (rising T2), a Mexican student, described the anti-femicide protests in Mexico that made international news earlier this year. She said that over the decades, investigations into kidnappings and murders of women have led to dead ends and very little action, so these protests call for a long-overdue reshaping of the government's priorities. She sees this as similar to the need for racial reform in America. Uma considers herself an ally to the BLM movement. "It's great to have the perspective of an oppressed group in Mexico and an allied group in the BLM protests," she said. "The way men are allies in Mexico shows me how I can be a better ally in the case of Black Lives Matter."
Mahmoud Elnagar, a rising Tut 3 originally from Egypt, has a similar connection to protests calling for reform in the government. Talking about the Arab Spring, a movement to overthrow authoritative governments all over the Middle East, Mahmoud said,"It was a powerful moment where everyone was fighting for one thing. The Muslims and Christians in Egypt all came together, they protected each other." He sees the same unifying quality with the Black Lives Matter protests: "In the 60s, it was just black people fighting for their rights. But now, it's everyone; it doesn't matter what color you are. If you believe in the cause, you fight for it and it brings people together."
Another focus of protest that was brought up through the interviews was movements not against institutionalized oppression, but recent action by the government. For example, the orange vests protests in Italy, which oppose the government's social distancing and lockdown regulations for the coronavirus. Elio Merolle, a half-Italian rising Tut 3 student, said, "These protests are very right-wing, so many Italians don't agree with what they're doing. But a lot of the people disagreeing with the orange vests express their disagreement through objective facts and cool-headed debating. I've seen on social media sustained effort to spread facts and live videos that are helping champion BLM and counter irrational racist perspectives."
Amy Baskurt, a francophone rising Tut 3, expressed her takeaways from the yellow vests protests in France. Part of the movement is against the hike in gas prices to reduce greenhouse gas emissions. Amy said, "The way [French Prime Minister] Macron has just made a radical change and isn't backing down is the way it needs to be here. People want change in the racist system, and gradual change has historically not really solved racial problems in the U. S. It's time to buckle down and do what the people want. And not get swayed by a small group that doesn't want that change."
These students' personal takes provided new insight into the current BLM protests in America. With growing pressure on local and federal governments, and legislative change already underway, we can hopefully look forward to a future where racism is erased from American laws and culture and inspires change around the world.
Leave a Comment
About the Contributor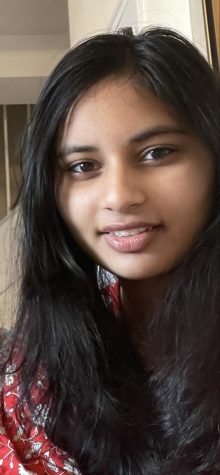 Maya Mukherjee, Arts & Culture Section Editor
Hi! I'm Maya, and I'm in the class of 2023. I tend to write about Arts and Culture topics, and you can usually find me tuning in to the latest podcast...