Harry's House: A Review
"Style is the answer to everything […] to do a dangerous thing with style is what I call art," echoes the introduction to British singer-songwriter Harry Styles' sold-out 2021 arena tour. Accompanied by these words of American poet Charles Bukowski, Styles returns to the music scene with the much-awaited and inherently stylish third studio LP, Harry's House, which was released on May 20th following a mass Internet teaser campaign.
Listeners may recognize the charismatic and charming Styles from his days in One Direction, the boyband which took the world by storm in the mid-2010s. Luckily, the singer's same dreamy aura comes through in Harry's House. The album follows its predecessors, Harry Styles and Fineline, by offering a place for Styles to share his personal growth and changing musical style. Harry Styles, the singer's first post-boyband era record, released in 2017, could have fit right into the soft rock musical atmosphere of the 1970s. Fineline, Styles' 2019 record of 1980s-esque psychedelic pop and wistful ballads, made listeners reflect as Styles sang of heartbreak and self-reflection.
Since these last albums, Styles has broadened his artistic horizons, featuring as Starfox in the 2021 Marvel movie Eternals and co-starring in the upcoming films Don't Worry Darling and My Policeman. He has also launched his skincare, cosmetics, and clothing brand, Pleasing, which received mass attention over social media since its announcement in November of last year. These varied achievements, coupled with the singer's fame in One Direction, have contributed to the global excitement shared by fans and casual listeners alike for Harry's House, which, like everything Styles does, is sure to please anyone who takes a listen.
In an interview with Zane Lowe for Apple Music, Styles stated, "this is my favorite album at the moment, and I love it so much." Written throughout the world in London, Los Angeles, Tokyo, and Maine during the COVID-19 pandemic alongside Tyler Johnson and Kid Harpoon, Styles has aimed to make Harry's House a reflection of who he is and the person he has grown to be.
Styles begins the album on a strong note with "Music For A Sushi Restaurant," where behind a catchy upbeat tune, the singer expresses adoration for an unknown love interest. The lyrics, "Because I love you babe/in every kind of way/just a little taste/you know I love you babe," echo the popular ballads of Fineline; Styles is in love and isn't afraid to show it. "Late Night Talking", a song Styles first premiered at Coachella, continues this light and fresh mood with the lyrics, "Now you're in my life/I can't get you off my mind." The album progresses into the funkier-sounding "Grapejuice" where Styles expresses a longing to escape with a lover to enjoy "A bottle of rouge" and "The grape juice blues."
The fourth track of the album, and its lead single, "As It Was", was released on March 31st and immediately topped Billboard Global charts for three consecutive weeks. The track, which has a really upbeat energy, has inherently sad and nostalgic lyrics as Styles reflects on some of his lonelier and darker days stuck at home during the pandemic. In an interview with NPR, the singer stated the track is about "metamorphosis, losing yourself, finding yourself."
The fifth track, "Daylight", is a continuation of the album's retrospective feel whose light harmonies have fans singing alongside Styles; "If I was a bluebird, I would fly to you/You'd be the spoon/Dip you in honey so I could be sticking to you." "Little Freak", which fans expected to be a suggestive song honoring another love interest, is really a sweet and melodic ballad where Styles expresses worry about a previous relationship slipping away from him, "I'm not worried about where you are/Or who you will go home to/I'm just thinkin' about you."
The album takes on a sadder and deeply personal meaning with "Matilda", which Styles told NPR is "definitely disguised as Roald-Dahl-Matilda." Listeners have found varied applications of the song in their own lives and childhoods; the lyrics of which, "You can throw a party full of everyone you know/And not invite your family 'cause they never showed you love," create a safe space for fans with troubled family histories.
However, in the eighth track, "Cinema", the upbeat instrumentals and flirtatious connotations continue, while Styles serenades another possible love interest, featuring plucky rhythm guitar and the repetition of "You got, you got the cinema/I bring the pop to the cinema/You pop when we get intimate." In "Daydreaming", the album progresses into a sunnily bright and almost happy feel, coupled with John Mayer on electric guitar and Styles' adoring lyrics, "Livin' in a daydream/Give me all of your love, give me somethin' to dream about,"; the song is perfect for dancing. Multiple images shape the tenth track, "Keep Driving", such as "Maple syrup, coffee," "Wine glass, puff pass," and "Cocaine, side boob," as Styles sings of himself and a lover driving through life despite all the concerns following them.
In the eleventh track, "Satellite", Styles reflects on a lack of communication between himself and a partner, with a light airy feel. However, the track explodes into a cacophony of drums, synths, and echoing vocals behind Styles' magnetic, "Spinnin' out, waitin' for ya to pull me in/I can see you're lonely down there/Don't you know that I am right here?" In "Boyfriends," Styles acknowledges his poor behavior in past relationships and behavior he has witnessed, which stands out against Styles' cocky personality expressed in previous songs, and departs from typical breakup songs where singers fail to reflect on their own mistakes. The song is relatable to anyone with experience being or having a boyfriend, with sweet Fleetwood Mac-esque guitar strumming and painful retrospection, "Boyfriends, are they just pretending?/They don't tеll you where it's heading." Styles concludes the album with "Love Of My Life" which he told Zane Lowe is a song "about home and loving England" where amidst angelic background vocals, Styles tributes to an unnamed entity, singing, ​"Baby, you were the love of my life."
Some listeners have complained on social media platforms that the album "disappointed" because it is "only the same genre," according to one fan. Others have expressed that the thirteen songs on Harry's House all sound the same and lack defining features. Similarly, a Pitchfork review stated that "Substance sometimes lacks, but style always abounds." While the content and themes of the album may be lighter than previous albums and the lyrics may lack depth, Harry's House remains a musical success.
It is irrefutable that British singer-songwriter Harry Styles has a lot to live up to in Harry's House following the wide acclaim of Harry Styles and Fineline. However, by taking one look at the global charts, it is obvious that Styles has succeeded. On Apple Music, Harry's House tops the Top Album charts, already setting Apple Music records for the most first-day streams for a pop album released in 2022. Not everyone will agree with the success of Harry's House, including Pitchfork which expressed the album to be not "especially bold"; yet the record has received mass adoration across social media platforms. Despite the differing opinions of fans and critics, Harry Styles affirms his passionate love for Harry's House, telling Zane Lowe, "To me, it's everything. It's everything I've wanted to make." In the words of the mission statement for Styles' brand, Pleasing, Styles aspires to be "pleasing, never perfect," and Harry's House is just that.
Leave a Comment
About the Contributor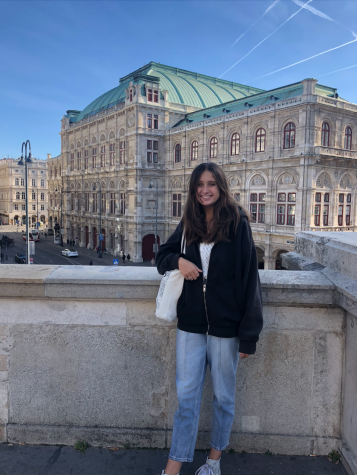 Emma Backbier, News Section Editor
I am in the class of 2023 and I write about many different topics. I enjoy baking and reading in my free time and my favorite classes are Global Politics...