Safety Instead of Privacy: How are School-Owned Devices and Internet Monitored?
The Tutorial House Student & Parent Handbook states, "Students should have no expectation of privacy when it comes to materials sent, received, created or stored with school-owned hardware or on the school network. All communications (including email) and information accessible via the network are assumed to be school property."
"This would include any pictures, videos, emails, letters – anything done while accessing the UNIS network," added Edward Langer, the Assistant Director of Technology, in a response to the UNISVerse.
The reason for this gap in privacy is to ensure the safety of students online. As stated in the handbook, "The safety of every member of our community, and particularly students, is the primary concern of all UNIS employees." But more importantly, the "Children's Internet Protection Act (CIPA) requires Schools and libraries to have an Internet safety policy that includes technology protection measures."
To comply with these requirements, UNIS has a system that "includes monitoring the online activities of minors," and prevents the access to inappropriate and unlawful material on the Internet.
***
School devices
On school-issued devices, students are protected online using a platform called Securly. This is a sophisticated program that monitors student internet activity across all operational systems and web browsers during the entire day.
Securly's main feature is an advanced AI engine that scans online content viewed by students for any signs of bullying, self harm, violence, nudity, and gun terms. It does so on all searches made and websites visited. On top of that, it analyzes "all content across email, Docs, and Drives," as well as all social media activity, even if the "child has chosen to not make that activity public," according to Securly's website.
Once Securly's AI detects a concerning issue, it alerts the UNIS IT team, who, depending on the situation, takes further action. It is only at that point, or at the request of divisional leadership, when UNIS staff looks into the online activity of students.
Besides that, UNIS uses Securly to block "websites and web-based services that the administration deems to pose a threat to the safety, security, and well-being of its community members, facilities, network, and resources."
School Wi-Fi
The UNIS Wi-Fi networks are also equipped with precautionary measures to ensure the online safety of students on campus, even if they are not using school computers.
According to Mr. Langer, "The UNIS-Guest [and UWD] network has a content filtering system which is similar to a portion of Securly's capabilities. There are flags on activities on the firewall level which report on malicious activity."
This is done through a Palo Alto firewall system, which like Securly, allows UNIS staff to be promptly notified about unsafe student activity, and avert further consequences in a timely manner.
Recreational use
As stated by the UNIS IT Policy, "Using school technology resources for personal activities is acceptable but must not interfere with the user's responsibilities and performance." However, students must recognize that these devices are not private, and are subject to monitoring to ensure acceptable use.
For example, UNIS's IT policy states that "[m]essages sent within the school as well as those that are sent from students/staff/faculty school owned devices and/or on the school's network can be subject to monitoring by the school's administration. This may include web-based email accounts and instant messages."
Bypassing the system
By using a VPN (virtual private network) on their personal devices, students would be able to bypass the school's firewall, however it is not recommended that they do so, as according to Mr. Langer, "[it] could impact the security of the network, device, and end user, and could result in the computer getting banned from use of the school network."
***
Moreover, it is important to note that the measures put in place are not meant to track the online activity of students, but to prevent harmful activity and access to inappropriate content with the aims of providing a safe learning environment. In consequence, a student's browsing activity will remain unseen by UNIS IT staff as long as malicious activity is not detected.
However, if students are particularly concerned about their privacy online, it is advised that they use the school technologies only for performing school related tasks, as this type of activity undoubtedly follows UNIS's rules of conduct, and therefore should not be subject to further consequences.
Leave a Comment
About the Contributor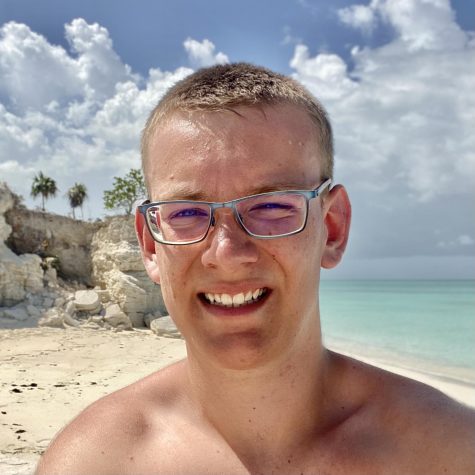 Robert Zeleny, Social Media & Publicity Team
I'm in the class of 2023, and I enjoy writing feature and news stories related to UNIS, as well as bike riding and playing board games.