New Club Spotlight
Read all about your new options!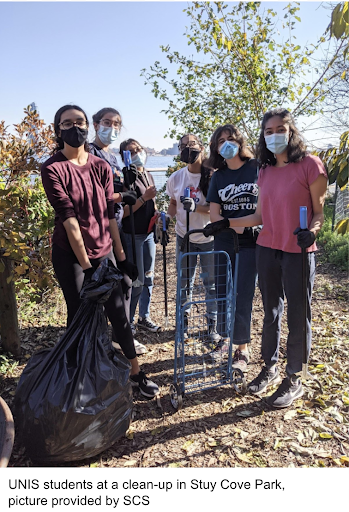 Twenty-twenty was chaotic and horrible for UNIS in many respects. COVID-19 and many other issues cast their shadows on the year. However, even though it might be hard to believe, 2020 also brought about some positive changes. Take, for example, the clubs at UNIS. According to the Office of Student Activities (OSA) there have been a remarkable number of new clubs in the Tut House this year. Students have taken it upon themselves to create clubs that they felt were needed, especially in a year like 2020, and to face the challenges of going through the initial stages of a club during a school year that is unique and difficult in many ways.
So what are some of the new clubs that have been created? Continue reading to take a dive into what they're all about and what they've been up to!
Stuyvesant Cove Stewards (SCS)
Stuyvesant Cove Stewards, or SCS, is a new club in the Tut House this year that partners with the Stuyvesant Cove Park Association and the green energy organization, Solar One. The goal of this club is to use hands-on volunteering, fundraising, and student teamwork to incorporate green ideals and sustainability into our local community, specifically at Stuyvesant Cove Park. In SCS' club video it is mentioned that "During the pandemic, the park was unattended to, and unfortunately suffered from reduced volunteer effort, widespread littering, and budget cuts." That's why the club was created, and why volunteers have already worked tirelessly to turn things around for the park. According to Natalie Meola, T2, the founder of SCS, UNIS students have already "put in over 100 hours of volunteer work at the park!"
So far, the Coronavirus hasn't caused any issues for SCS since volunteering can be done outdoors while following the social-distancing protocols. Even so, Natalie explains that "if cases rise drastically, the club will prioritize the safety of the students and focus on projects which can be done without direct contact, such as fundraising and raising awareness for environmental issues." Club members are optimistic that if volunteering would have to stop for a while this winter due to the pandemic, students will be back to volunteering in-person again in March, when the peak volunteering time at Stuyvesant Cove Park starts.
Black Student Union (BSU)
BSU, short for Black Student Union, is a new affinity club in Tut House that, according to its mission statement, strives to provide "a safe, open, and educational space, for Black BIPOC, and non-BIPOC students." Unlike most other clubs, the BSU doesn't have a president and vice-president. Instead, the club has co-leaders. This year, the co-leaders are Afomiya Kassie (T3), Sophia Davis (T4), Eliana Asiedu (T4), Rokhaya Ndiaye (T3), Miki Pyke-Sharpe (T2), and Naomi Douma (T3). During an interview with Rokhaya Ndiaye, she explains that events like the BLM movement and the formation of the EIB, Equity and Inclusion Board, which happened over the summer and last school year, were an inspiration for her and other Tut House students to create a club for Black students, which they believed to be long-overdue.
The main goal of the BSU is to teach students how to be allies for the Black community and other marginalized groups, along with creating a space where they can "appreciate the beauties of Black culture," as Rokhaya put it. So far this year, the Black Student Union has started meeting weekly. The first meeting was centered around the topic of Black artists, during which students viewed multiple of these artists' music videos and discussed what some of the recurring themes in the lyrics were, along with giving their thoughts on the topic. According to Rokhaya, this is just a "dip in the pool," as the club plans on talking about many other important topics like Black music, fashion, social media, and social justice. Other future plans for the club are to facilitate fundraisers for social justice and to expand to the Middle School, Junior School, and Queens.
Leveling the Playing Field (LPF)
Another club that has risen to the challenge of going through its beginning stages in such a hard year, is Leveling the Playing Field. LPF's founders are the sisters Sasha and Erica Liberman. Sasha shares the reason that the club was created by saying, "Erica and I have been playing sports since we were 6, and we've been lucky enough to play on teams in and out of school; however, many kids around the United States don't have the same opportunity to play sports as us. We wanted to raise money and equipment to help kids who don't have the same opportunities as us and the majority of UNIS to play sports." And that's where LPF comes in, a club that strives to support underprivileged schools and athletic departments that engage in physical education and athletics by fundraising and donating gently used equipment to a non-profit organization called Level the Playing Field. According to LPF's club video, the club aims to "educate the students of UNIS on situations around the world as well as try to share our love for sports with others without resources." Sadly, the coronavirus has presented LPF with some difficulties. For example, it has made it difficult to organize an equipment drive as was the plan. Nevertheless, LPF is working to overcome these challenges, and members hope to facilitate a safe and socially-distanced drive that can be held in the near future.
Destress no Distress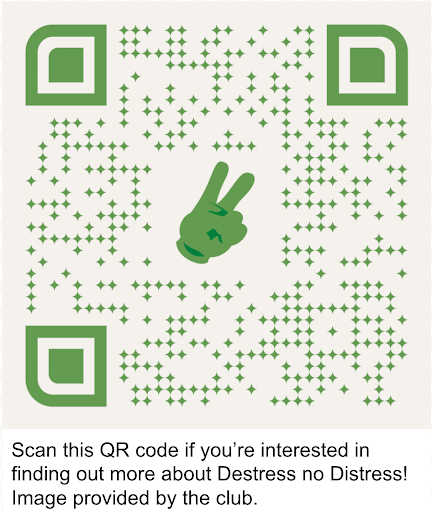 High school students are often under a large amount of stress and pressure. This year is even tougher since there are so many things going on in the world right now that often create another layer of concern for students. At UNIS, we're very fortunate to have mental health resources. However, students often find these resources "intimidating to approach," as T4 Maddy Smith put it. That's where the newly founded club Destress no Distress comes in. Their aim is to create a safe environment where students can talk about anything that troubles them. During meetings, students are encouraged to discuss what's on their minds and what they're comfortable sharing. Oftentimes, club members participate in activities as well, for example drawing or creating art, as a way to calm down and relax. The main benefit of a student-run club as a mental health resource is that it allows students to get support from their peers who really understand what they're going through since they're the same age and often share similar experiences.
Luckily, the club also consists of wonderful people like Anna Radford, the founder of the club, and Dylan Moore, both T4s, who have a good amount of knowledge about stress and mental health and can be of help in that aspect. Unfortunately, COVID-19 and the hybrid schedule have also created their fair share of complications for Destress no Distress. The main problem is that it's more difficult to create connections between students over Zoom. Some of the future plans for the club include facilitating a way for students to give their input on what they would like to get out of a mental health based club, and collaborations with other clubs. More details about these projects will be given soon, so stay tuned!
Cadenza: A Music Community Service Club
Last school year in May, then-T1s Titan Edgerton Black, Xiaozhou Xu and Akari Tomita helped organize MusiConnect, an online music concert that UNIS students could sign up for. Its goal was to help the elderly along with other people that felt isolated due to the pandemic and it was a great success. That's why Titan, Xiaozhou and Akari decided to use this concert as inspiration to create a new club for their Tut 2 year – they became the co-presidents and vice president of Cadenza.
The goal of Cadenza is to give UNIS students a chance to get their community service hours in a meaningful way, while doing something that they love: making music. The club wants to facilitate this through organizing concerts and working together with other organizations, which will allow students to perform as well. Club members of Cadenza have already started organizing a concert similar to MusiConnect for this year, and are currently working together with Concerts in Motion, who have a performance for the elderly at 4 p.m. daily. Sadly, the pandemic has also caused some issues for Cadenza. One of the things that the club wanted their members to be able to do is to play together, but the Coronavirus has made this very difficult since chamber music is almost impossible to do online. However, once the pandemic is over, Cadenza members will be able to work on repertoire together and the issue will be resolved. Cadenza is a club open to everyone, and as Xiaozhou, Titan and Akari explained, "anyone who has interest can join no matter their skill level or knowledge."
The STAR Project – Serving Teaching and Assisting Refugees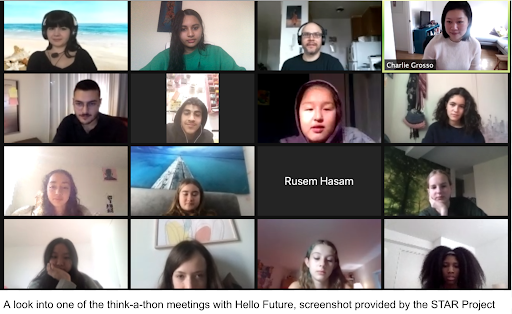 Another one of the new clubs this year is the STAR Project. It was created by Maya Mukherjee, T2, the current president of the club, with help from Estela Santos Torres, T2, the vice president. The concept of the club was inspired by the experiences Maya had working remotely with teens at the East Amman Charity in Jordan all of last year, and an online science club she and Estela worked on over the summer for local refugees. The experiences were rich and it seemed like a great idea to connect UNIS students with refugees their age through a club.
Students in the club aim to help refugees academically through conversation, classes, and tutoring, but also socially, by hosting book clubs and movie nights. Lastly, the club also participates in fundraising and facilitates drives to help refugees financially and by getting them the supplies they need. So far this year, the club has mostly focused on fundraising through its participation in the coats and boots drive with Hearts & Homes for Refugees, and the City Harvest foods and toiletries drive. Another project that the club was a part of recently was the online Think-a-thon project with Hello Future, in which UNIS students and Arbat refugees worked in teams to practice design thinking. When asked whether or not the coronavirus has had a negative impact on the club's progress so far, Maya and Estela explain that even though the virus has "closed some doors, it has opened others." COVID-19 has made it difficult for the club to organize in-person meetings between UNIS students and refugee youth, but the use of Zoom has allowed club members to get in direct contact with refugees on the other side of the world.
From Stuyvesant Cove Stewards to Cadenza, it's clear that the clubs that have been created by Tut House students this year are truly amazing and create great opportunities for activities that students can participate in. Even though clubs have already gotten started this year and not all of them are currently accepting new members, you may be relieved to know that all of the clubs that have been mentioned in this article are still open to students joining at this point in time! As Rokhaya put it, "the more the merrier!"
So if you're interested, you can reach out to the club advisors and leaders, whose names have been mentioned in the article. Alternatively, you can get in contact with OSA.
If you're interested in finding out more about other new clubs that weren't featured in this article or any already-existing clubs in Tut House, check out this year's club videos, which you can access by clicking on this link!
Leave a Comment
About the Contributor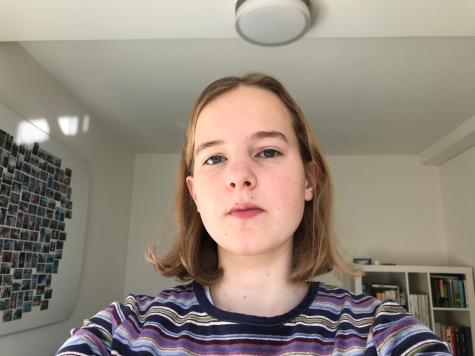 Lude Edens, Editor-in-Chief
Hello! My name is Lude and my pronouns are she/her. I'm in the class of 2023 and I've been at UNISVerse since T1. My favorite articles to read, write,...