UNIS Heroes on the Pandemic Frontlines, In Their own Words
The COVID-19 pandemic has affected each and every one of us. As we reach the terrible milestone of 125,000 COVID-19 deaths in this country, it's easy to feel that we will be trapped in this loop forever. But there are those in our UNIS community who are fighting every day to make things better. In this article, we hear from four of them, in their own words.
Ms. Despina Tsoflia, diagnostic cardiac sonographer at NYU, fiancée of UNIS Staff Member
Ms. Tsoflia said that this time has been challenging for her not only because of her professional life but also because members of her family have heart and other health conditions. Her insight into what it's like to help patients, as well as the declining numbers of cases, provided a ray of hope in these difficult times. Here is an excerpt of my interview with her:
"The most difficult thing has been how we went from just seeing one to two patients that were ventilated to every single patient being on the ventilator. And watching them spiral down in the disease… it's very hard.
"My father has a heart condition so he was at high risk. To keep him safe, I had to move out a lot earlier than expected and the adjustment was really tough. There was a lot of crying.
"I never expected this to happen, but what I'm doing is definitely fulfilling what I set out to do in the medical field. What keeps me going is knowing I'm actually helping my patients. Sometimes people say my job is 'just ultrasound,' but we're an important part of the COVID patients' treatment plan. We're actually helping these patients and it's very fulfilling.
"Almost every floor in our hospital used to be for COVID. But now that's less and less, which is making me feel hopeful that things are getting better."
Ms. Tsoflia left us by assuring our readers that things are getting better and that while this is a hard time, there is an end in sight.
Dr. Peter Kim Nelson, neuroradiologist at NYU, parent of a rising T1 and three alumni
Dr. Nelson, a senior neuroradiologist, astounded me with his humility and desire to highlight other medical professionals. Although he worked in a completely different field of medicine, he volunteered to become an extra pair of hands during the COVID-19 crisis. Everything he was doing during the pandemic appeared natural to him; he felt there was nothing "heroic" about it. His candid reflections about his career and his approach to the COVID-19 pandemic were enlightening and very touching. Here are some moments that struck me the most:
"The crisis became somewhat acute and the hospital became inundated with a large number of COVID patients. The medicine I was doing at the hospital came to a grinding halt and during this time some of us went into different roles. We functioned essentially as interns
"When COVID-19 patients are admitted, they cannot see their family and are in isolation during their time in the hospital. To address this challenge, some of the physicians at NYU organized a service called Family Connect. It's handled by volunteers who call the families each and every day just to update them and facilitate video chats. I took on the extra initiative of Family Connect because when you're on the floor, you see that this is really a hardship. It seemed the natural thing to do.
"When I was a medical student it was the AIDS crisis. This crisis is similar in many ways. I didn't know if I should go home or stay at the office after work so as not to infect my family with COVID-19. What was touching was that my children said, 'No, Dad, just come home. We'll face this as a family and if you get sick we'll care for you.' It reminded me of when I was a medical student and my father said 'Look, Son, if you catch AIDS, whatever that is, just come home and I'll take care of you.'
"During COVID-19, I found a rededication and recommitment to who I am and to my profession. Things like this have a chaotic effect on you, but the way to get past them is to rededicate yourself to that purpose."
Ms. Claudia Pyke, dialysis nurse at NYU Langone (Long Island), rising T2 parent
Ms. Pyke's accounts of emotional struggles with patients and family made her positive and hopeful outlook all the more impressive. Here are a few examples of what she said:
"A lot of my patients are elderly people that we've been taking care of for a while and they become almost like our own family. So, to see them go into emergency care with COVID, knowing that they won't be allowed any contact with loved ones or with caregivers like me, is very emotionally difficult.
"My daughter had heart surgery when she was four years old, so I have to be very vigilant, and that means that there is always a distance at home between me and my daughter. I wear a mask at home because I'm at high risk for carrying the disease and infecting her. I'm always worried about that."
Dr. Vicki Goldhill, emergency medicine physician and volunteer for the Medical Reserve Corps in NY and NJ, rising T2 parent
When I interviewed Dr. Goldhill over the phone, what stood out to me was her willingness to put others first. Her concerns about the COVID-19 pandemic extended beyond the medical aspects to hate crimes, domestic abuse, and food insecurity. You'll see what I mean when you read some of her quotes below:
"An especially terrible thing that I experienced during COVID was as a rape advocate counselor… I haven't done it for about 15-plus years now, but during this period they didn't have anyone who wanted to go into the hospital, so I offered to do a shift. A patient that I counseled was a nurse who was on her way home from a night shift and got raped in a lonely subway car. And it was such a heartbreaking moment because here's one of those heroes working 12-plus hours a day and gets raped on her way home. It was so sad.
"There was one member of our family who got very sick. She was afraid to go to the hospital because she thought she might die there. I stopped working for a few days and just took care of her. I did respiratory therapy and everything else I could do from home. She's fine now and back at work! But it was very scary for my whole family."
"As an emergency care physician fighting the pandemic, the most rewarding thing for me is that happy feeling when someone gets better and you know you made a difference. It's better than anything. But it's also just comforting people. Like if you provide that little bit of reassurance, you can see that they feel better. I think that's part of being in this world and making the world a better place."
Dr. Goldhill left our readers with the parting advice to stay informed and to be aware that the data that is out there doesn't always tell the whole story.
So the next time you clap, cheer, or clang pots together for our healthcare heroes at 7, remember the people you've met in this article – the familiar faces of the pandemic we're fighting together.
Leave a Comment
About the Contributor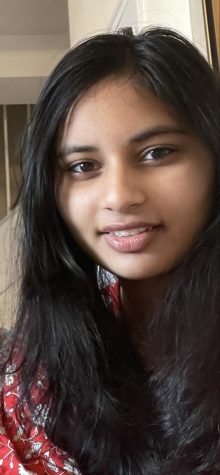 Maya Mukherjee, Arts & Culture Section Editor
Hi! I'm Maya, and I'm in the class of 2023. I tend to write about Arts and Culture topics, and you can usually find me tuning in to the latest podcast...