A Student's Guide to Cooking: By Someone Who Can't Cook
As a connoisseur of many fine arts I can confidently say that cooking is definitely not my forte. However, quarantine has inspired me to try new things and launch myself into the world of cuisine and potentially arson. I wanted to start off simple with some popular trends I saw all over the internet, aka TikTok. My first conquest was the aesthetic "Dalgona Coffee," otherwise known as whipped coffee, followed by challah bread, to satisfy my Jewish cravings. By then I realized that no amount of Chloe Ting workouts could erase the sheer amount of sugar I was eating, so I attempted to take a "healthy" turn with a layered red velvet cake.
Dalgona Coffee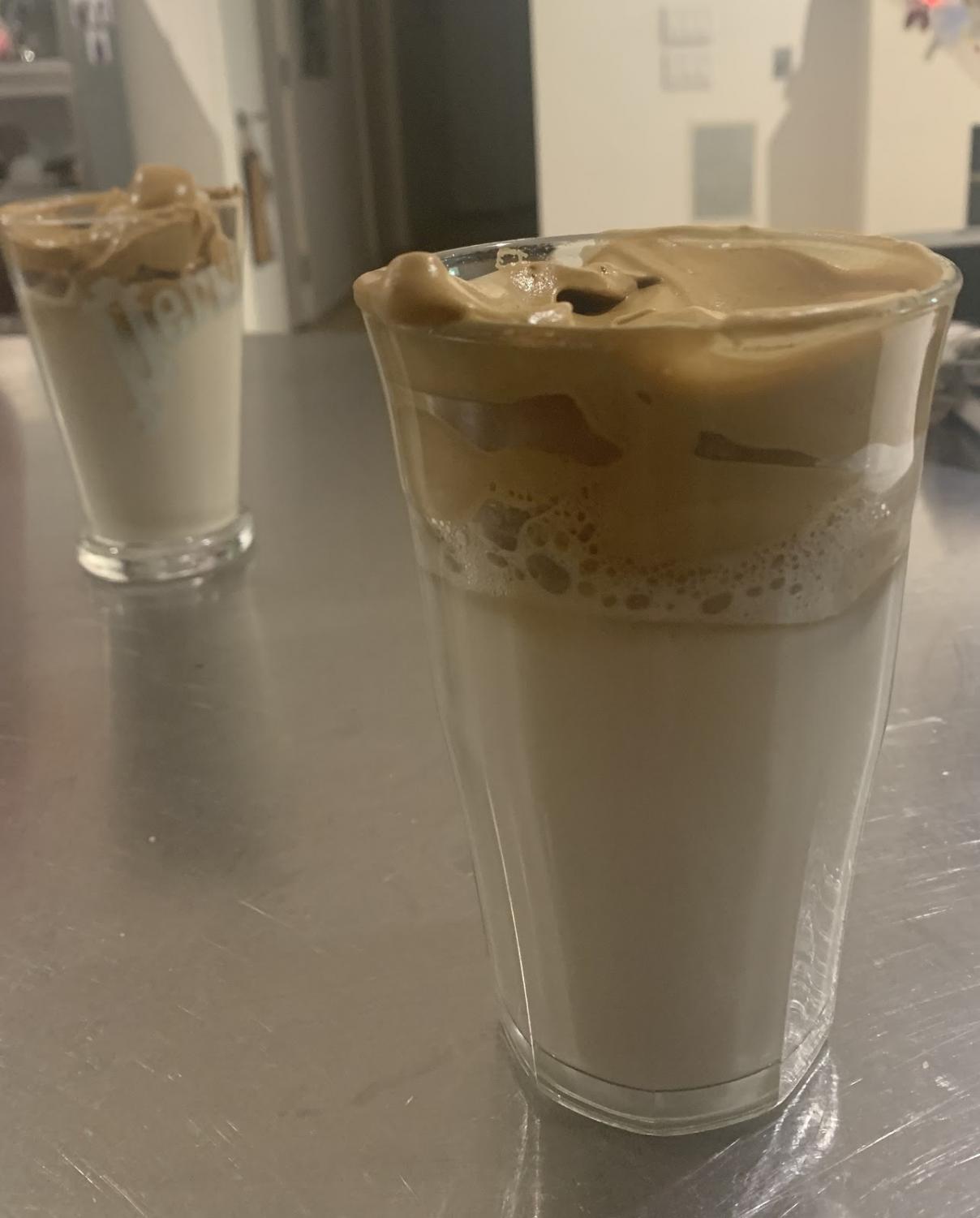 This was possibly my simplest endeavor. All you need is 2 tablespoons of an instant coffee (I used Nescafe Clasico), 2 tablespoons of sugar (you can use less) and 2 tablespoons of boiling water. Pour all this into a bowl and take out your hand mixer.
Alternatively, if you're looking to get ripped during quarantine, you can use a whisk and beat very quickly. Make sure to alternate hands or you'll end up with one arm looking toned and the other looking like a sad deflated balloon animal.
If you use a hand mixer, simply turn on the mixer and move it in circular motions for around two minutes. You will know you have finished your coffee, when stiff peaks have formed.
One finished, take out a tall glass, throw in a couple of ice cubes, pour in some milk (in my case I used the superior Oatly oat milk) and scoop that coffee into the glass. Then take out your phone, take an artsy picture from at least four different angles, admire them, and then grab a spoon, viciously mix it, and drink this creamy delicacy that will hopefully get you through your all nighter.
Rating: ✰✰✰✰✰
Olive Oil Challah Bread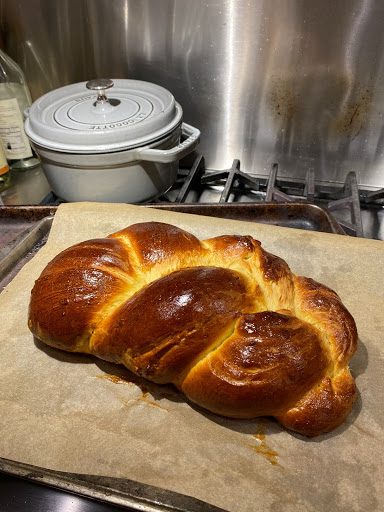 Melissa Clark, aka the New York Times's reigning cooking monarch, provided me with this delicious recipe. It's complicated, but why try making bread if it's easy. Here, all one needs to do is take the original recipe and tweak it with a little bit of orange zest and a lot of olive oil. It should be noted that the bread takes a certain amount of time to rise, so I suggest pulling out that book you 100% intended on reading as soon as "work calmed down."
The end result of this recipe is an amazing bread you will most likely eat in half the time it took for the dough to rise. And as a bonus, your house will mimic the smell of your favorite bakery that's closed down due to quarantine. I would suggest pairing this bread with a glass of milk or even some ice cream if you're in the mood for dessert.
Recipe here: https://cooking.nytimes.com/recipes/1018481-olive-oil-challah
Rating: ✰✰✰✰✰+✰
(It smelled really good.)
Layered Red Velvet Cake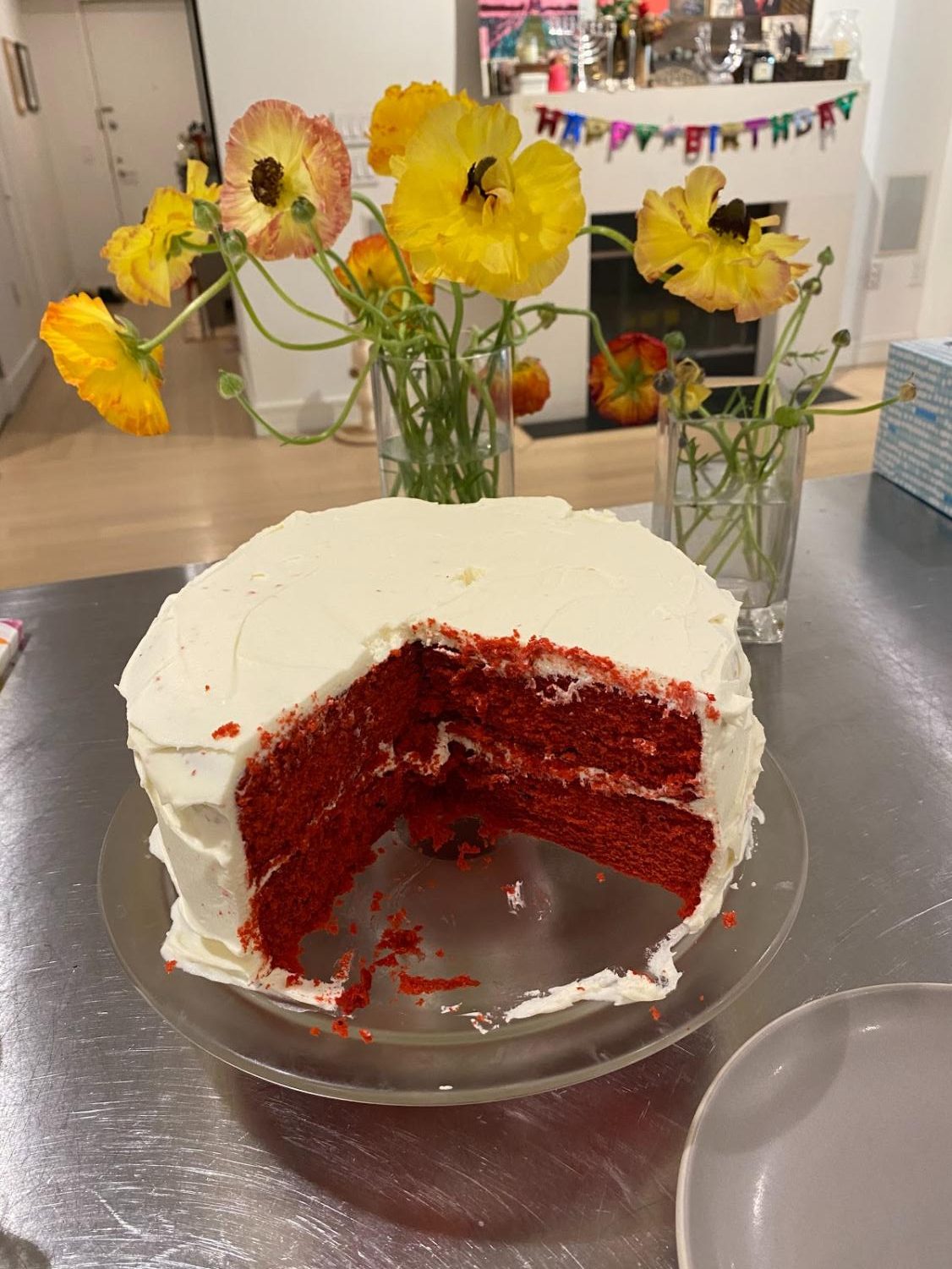 I originally thought that baking a cake would take a long time and my assumption was right. Nevertheless, baking a cake on my own has been a dream of mine ever since my Cake Boss obsession at age nine. This recipe is not only aesthetically pleasing but allows you to celebrate a quarantine birthday happily if you have the misfortune of being a Gemini (or Cancer). I used a spatula to spread the cream cheese frosting, which works just as effectively as a palette knife, as long as you use a knife to smooth out the edges. The texture of the cake itself is soft and crumbly, making it a perfect storm of frosting to cake ratio when one inevitably mis-transports the cake onto the plate.
Recipe here: https://sallysbakingaddiction.com/red-velvet-layer-cake-with-cream-cheese-frosting/
Rating: ✰✰✰✰✰+✰
(One extra star because you can eat it a couple days after you make it.)