Coachella? Try UNIS at Carnegie Hall Instead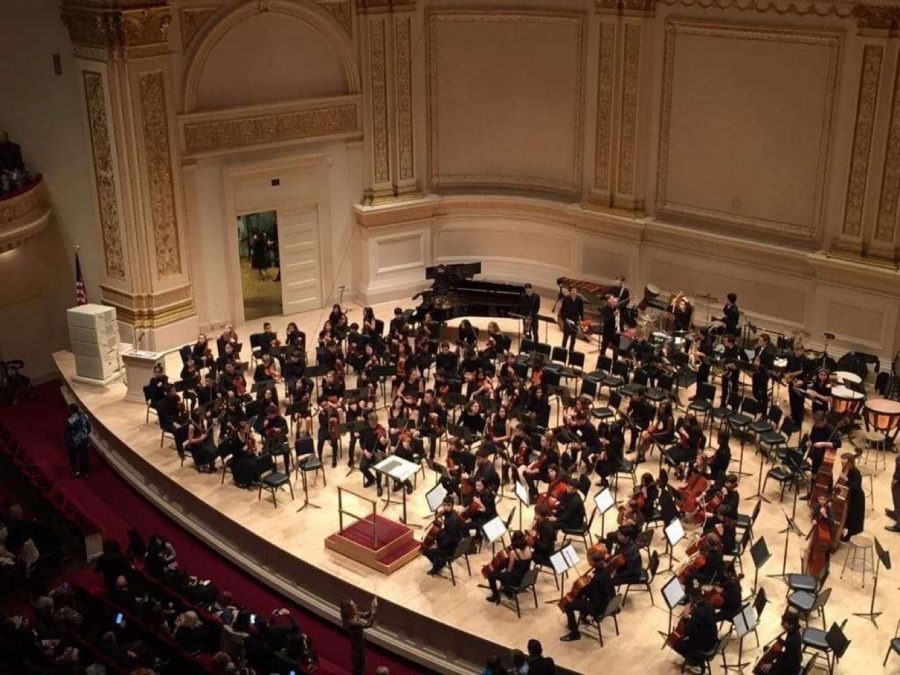 Carnegie Hall, named after Andrew Carnegie, is one of the most famous and magnificently sounding concert halls in the world. This renowned building has been home to concerts from musicians such as Duke Ellington, Benny Goodman, Julie Andrews, and Yo-Yo Ma. On January 26, the United Nations International School hosted "A Festival of Orchestras," an event inviting Middle School and High School ensembles from the area to perform at the hall in front of family and friends. The schools invited included The Brearley School, The Collegiate School, The Packer Collegiate Institute, Rudolf Steiner School, and Saint David's School.
Every three years, the UNIS wind and string ensembles have a chance to experience the once-in-a-lifetime opportunity of playing at Carnegie Hall, which is incredibly special because of the hall's prestige among the musical community. The string ensemble, directed by Patricio Diaz, kicked off the event with a rendition of "Amazing Grace," with a solo performance from T3 student Amane Miura. It was followed by an arrangement of Holst's "The Planets," led by soloist T4 student, Won-Jae Chang. The string ensemble was accompanied by the Jazz Band — directed by Mr. Fahie — during their performance as well.
The wind ensemble, directed by John Henry Lambert, closed out the event with "Belonging," an original piece by Tom Davoren (making its United States debut), then followed by "Bogota," a world-premiering piece by Mike Fahie which was accompanied by a solo from UNIS alum, Lina Tabak. The concert then concluded with the wind ensemble's rendition of Rimsky-Korsakov's "Procession of the Nobles."
Both ensembles worked long hours and extra practices on school days and weekends in order to refine and perfect each of their performances. While some believe mistakes were made, all ensembles' performances were met with widespread applause and congratulations.