StuCo Brings Back Winter Formal
High school dances are the ultimate rite of passage. If ubiquitous movie scenes over the decades are to be believed, most school dances take place in the sweaty high school gym with kitschy bluish lighting and a hired band playing the latest hits. Though UNIS's traditions are quite distinct from a typical American high school's, the annual winter formal used to be a staple.
Pre-Covid, our dance was held in the cafeteria, with teacher chaperones and school-provided refreshments. But after the 2019 dance, the school administration announced that it would no longer be hosting the winter formal on-campus and, according to Tut House Principal Mr. Delaitre, would be "distancing itself from officially planning the event." This announcement came after years of behavioral incidents before and during the dance. Mr. Delaitre described that "[the administration] would spend weeks investigating the issue, and it would result in some students facing disciplinary action," like suspension. This, coupled with Covid, meant that T1s to T3s have never had a high school dance.
Tut House Science teacher and Grade-Level Coordinator Ms. Dowd highlighted that "it's really important for students to have spaces to socialize in-person, especially coming out of Covid." Mr. Delaitre seconded this, saying that "students should be able to socialize outside of school hours and outside the school building." This sentiment was clearly echoed by Tut House students and motivated the Student Council to explore how to make the dance possible with the constraints at hand.
Planning took several months, and between one location change and a few date changes, the process has been far from smooth. As Etsub Kassie (T4), the Student Council President noted: "Because of liability issues, it was hard to find location managers who wanted to negotiate with high school students." According to Etsub, the support of Tut House Parent Representatives, Yvonne Brown and Neil Nandkisore, proved indispensable. They met with hotel administrators and worked to find a location that would keep students safe but was also affordably priced. But even with PA negotiations, the cost of the location may have been higher than the organizers hoped for. A GoFundMe message sent on February 12th to Tut House parents requested them to chip in "to pay for rental of the venue, DJ, and refreshments."
The planners got what they paid for, though. The Prince George Ballroom's high ceilings and mosaic pillars were certainly a step up from our UNIS cafeteria. Student Council Vice President Matias Corona (T4) said that "it's more elegant to have a dance in a ballroom than in the place where we eat lunch. This new location has created more excitement around the event than in past years."
But potential behavioral issues still loomed large, despite the changed format and separation from the school administration. Tut House English teacher Mr. Braccino said that "having the dance off-campus might not have the same deterrent effect on bad behavior as hosting in a school environment." And if substance abuse or harassment did occur, consequences would have been decided by hotel security, potentially involving the NYPD.
The issues of disciplinary action and cost-effectiveness of holding a winter formal off-campus are certainly worth considering and improving upon. But the fact remains that after several years of no dance and no change in the administration's stance, the Student Council managed to pull off an incredible event. The formal was a resounding success, with more than 300 attendees across all four grades, and three hours of dancing and singing along to classic ABBA jams and Bad Bunny hits. This year's dance was the first step in re-integrating the winter formal as a Tut House social staple, and we hopefully have many more to come!
Leave a Comment
About the Contributor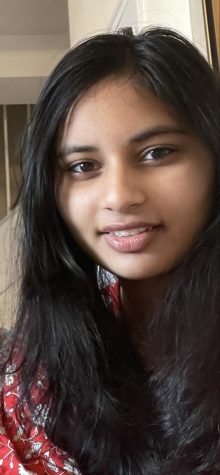 Maya Mukherjee, Editor-in-Chief
Hi! I'm Maya, and I'm in the class of 2023. I tend to write about Arts and Culture topics, and you can usually find me tuning in to the latest podcast...