Bryant Park Winter Market
A quick Google search of holiday activities in New York City will yield you four hundred million results in 0.94 seconds. The number of things to do and places to visit each day is overwhelming to say the least, and many New Yorkers find themselves paralyzed by the number of choices and end up doing nothing at all. The Bryant Park Winter Market presents a compelling solution to this problem – when you enter the market, the aroma of toasting nuts and the sound of clinking ice skates will immediately put you in the holiday mood. With its variety of stalls selling anything from crystals to dumplings to soap, there's something for everyone. UNISVerse sent two editors, Maya Din and Maya Mukherjee, to give you the low-down on what's worth the hype and what's not.
***
Food
One of the classic holiday drinks around winter is hot chocolate, and there are certainly plenty of options to choose from at the Market. The No Chewing Allowed shop, whose name refers to the thickness of their drink, is perfectly packaged. The "Instagrammable" gradient of hot chocolate from white to dark gives the stall aesthetic appeal, and the long line seems to attest to the deliciousness of the beverage. On the other side of the block, there's a smaller stall, run by New York favorite Max Brenner, with an aroma just as enticing, but a much shorter wait time. We decided to compare both in a side-by-side showdown to find out which one is worth your time and money.
The No Chewing Allowed drink was a little too sweet but did taste like real melted chocolate. However, despite the promise of the name, the hot chocolate was relatively thin and tasted almost as if it had been made with hot water instead of milk, which is practically a cardinal sin. On the other hand, the Max Brenner hot chocolate was creamy and thick. The nutty notes cut through the sweetness to give the beverage a more complex quality, and will leave you more satisfied than its competitor. So, we definitely recommend swinging by the Max Brenner stall and exploiting the "No Chewing Allowed" storefront for social media pictures!
If you're still feeling peckish, you may get tempted to pop into one of the many wholesome and rustic apple cider donut stalls. However, we found that these pastries were pretty much flavorless and flat, so save your money and spend on international options like waffles, bao, and tacos instead. Keep in mind that seating space tends to get crowded in the evening, so be prepared to snack standing up!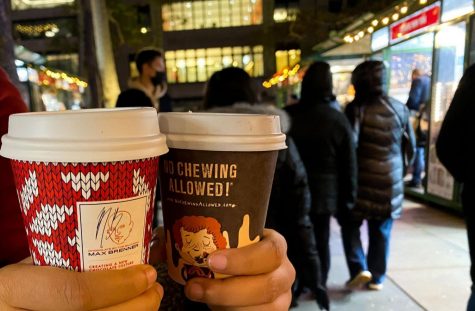 Shopping
Thanks to its wide variety of niche stalls, the Bryant Park Winter Market is the perfect place to find a personalized and unique gift for all of your loved ones. For your favorite astrology fiends, there are crystals galore (Maya M. had to restrain herself from blowing all her cash on quartz and amethyst), as well as several aromatherapy offerings. Maya D. spent the better part of the trip at the olive oil stall, looking for the perfect artisan batch for her culinary connoisseur mom. For your friends who insist that listening to vinyl is better than Spotify, there's even a stall with eclectic vintage records.
Both of us were drawn to the muted purple lighting of the JustStars store, which sells holiday ornament origami stars. On the cold early December day, the stall seemed to radiate warmth and looked like the perfect cozy corner. The intricately cut and folded creations light up inside and make the perfect Christmas tree topper or dinner table centerpiece. One will run you around $40, but they look durable and can be used all winter long.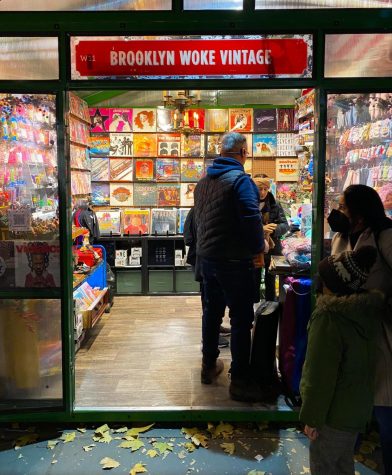 If shopping and eating aren't your thing (who are you?)
Shopping and eating were definitely enough to keep both of us occupied, but if you're one of those people who likes to have a structured activity to ground your outing, you're in luck. The Market has a skating rink open daily and is apparently the only free-admission rink in the City. You do have to wear your mask and keep social distance on the ice, but the delighted screams and chatter of the skaters showed that they weren't having any less fun.
Of course, Bryant Park is also home to the famous carousel with multicolored horses. Though you may have to share with excited and hyperactive five-year-olds, a ride on the carousel could be the perfect way to close out your evening at the Market.
***
The Bryant Park Winter Market shops close on January 2nd, so get your perfect New York Winter Wonderland experience while you can!
View Comments (1)
About the Contributors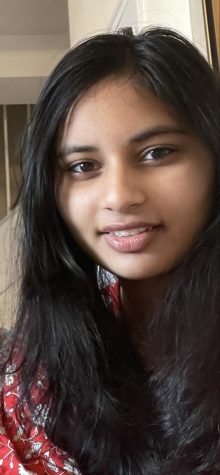 Maya Mukherjee, Arts & Culture Section Editor
Hi! I'm Maya, and I'm in the class of 2023. I tend to write about Arts and Culture topics, and you can usually find me tuning in to the latest podcast...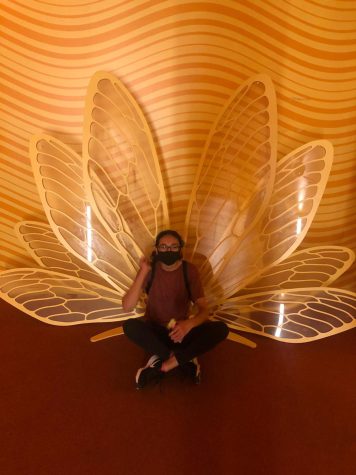 Maya Din, Opinion Section Editor
Hi, my name is Maya Din and I'm a member of the class of 2023. I love traveling, photography, baking, and reading! Currently, I edit and write in the opinion...