Peter and the Starcatcher Ushers in Live Theater
If you happen to wander into the auditorium at 3:45pm on a Tuesday, Wednesday, or Thursday, you would probably expect to see a dark room with neatly lined empty seats. Instead, you'd be met with an energetic group of Tut House students singing about salt and pepper, duking it out with imaginary swords, and pretending to drown in choppy waters. No, it's not practice for next year's Week Without Walls! It's rehearsal for the upcoming Tut House musical, Peter and the Starcatcher.
The play tells the origin story of J.M. Barrie's Peter Pan with rollicking humor and a dizzying cast of characters complete with orphans, mermaids, and pirates. While the annual in-person play was one of the COVID casualties in 2020, the beloved tradition is back this year, with a few modifications. Some of the pandemic-related measures include maintaining social distance on-stage, as well as wearing masks in rehearsal and for the final performance.
Luckily, these abnormal circumstances don't seem to faze the directorial team, who are tackling COVID challenges head-on. Student Director Sol Blanco (T4) said, "one of our characters' calling cards is his really big mustache, so we're already working on how to incorporate that with masks." Clay Tyndale (T2), Stage Manager, added that the masks could provide fertile ground for innovation: "They may be fun to play with as an additional element of costume, and we definitely have to get creative with movement and blocking."
Also breaking tradition is the selection of the cast itself. While the Tut House musical has historically reserved the lead roles for upperclassmen, this year, the two leads are actually T1s. Sol said, "The lead characters in the play are meant to be thirteen or fourteen years old. We really liked the more innocent acting that some of our younger cast members had, and we thought they would be able to most authentically tell the story." They added that "this play challenges actors to be really versatile because every cast member – even the leads – play multiple characters or versions of their characters."
The cast seems quite comfortable with the boisterous play and unusual circumstances. What's more, Sol and Clay agree that despite it all, the cast chemistry is electrifying. Even in preliminary rehearsals, it's easy to see that the actors are not just quick to pick up instructions, but are gelling well and playing off of each other, which is always a treat for the audience.
Peter and the Starcatcher opens on December 1st, and with all the exciting twists and turns, our readers have a lot to look forward to!
Leave a Comment
About the Contributors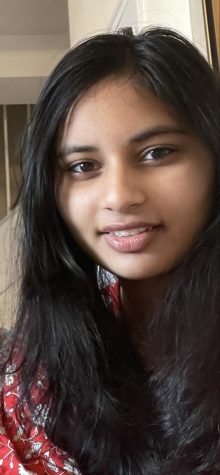 Maya Mukherjee, Editor-in-Chief
Hi! I'm Maya, and I'm in the class of 2023. I tend to write about Arts and Culture topics, and you can usually find me tuning in to the latest podcast...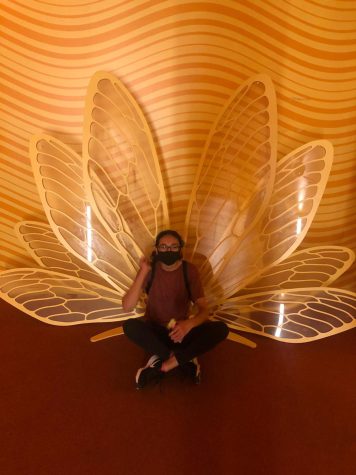 Maya Din, Visuals Editor
Hi, my name is Maya Din and I'm a member of the class of 2023. I love traveling, photography, baking, and reading! Currently, I edit and write in the opinion...