Very Public Art: Madi Aye's Arresting Work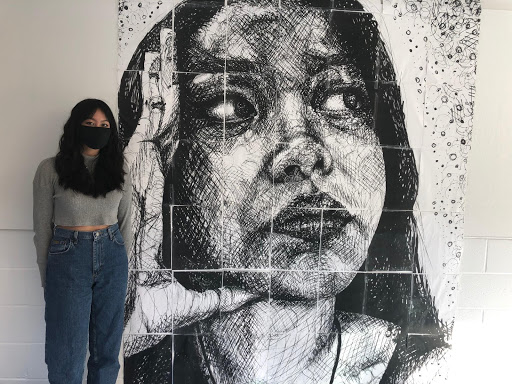 You've probably passed by the big artwork on the third floor, as we call it, actually titled A fragment of spiraling reflection. But could you name the artist of this piece? Do you know anything about her?
Inside our school, there are wonderful pieces of art being created and displayed, and we must pay more attention to them! Madi Aye, the artist of this drawing and a T4 student, demonstrates the creativity that's among students at UNIS.
Madi started doing art in Middle School and took art classes inside and outside of school up to the IB, where she chose it as one of her subjects. Through the years, she's developed new art techniques and worked with many mediums. For this piece, she chose to use pen and paper, a simple yet complicated way of achieving such a detailed portrait. She hadn't worked with these materials much but gave it a try. By using various line strokes, Madi managed to recreate this curious expression initially captured in a picture of herself. Originally this artwork was about a page big, and she thought it would look good with color on top of it, yet now it's covering a whole wall and remains black and white.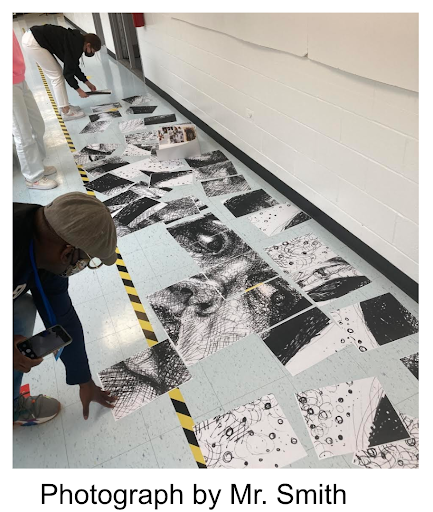 It was thanks to Mr. Smith's input that this piece came to life as we know it. With the help of an online tool, Mr. Smith, Madi's art teacher, enlarged her drawing a bit to see how it would look. He liked it, so he made it bigger and bigger. Each time he "kept discovering more in every single panel," as he explained. That's how the original drawing became massive. With help from two T1 students volunteering to display art around the school, which is an ongoing CS opportunity that Tut House students can take part in, Mr. Smith put together this piece. He admits that it wasn't easy, and took more time than expected, but I think we can all agree that this puzzle making was worth its final result.
At first, Madi didn't feel very comfortable seeing her face so big in a school hallway, but over time she's started being proud of it. Students around the school seem to really appreciate it too, as Paula Santiago, a T2 student, sees it, "It looks kind of mysterious… also makes you wonder where she's looking, and what she's thinking." Madi didn't have a specific message behind this piece, which allows us to view and relate to it as we please.
Overall, the creation of this piece was a series of casualties. It wasn't very planned, more of just "a practice," as the artist admits; it didn't look like she expected, and drastically increased in size. Yet, going out of the box, and keeping an open mind might've just been what brought together such an expressive, intricate and beautiful artwork. Combined with great artistic skills!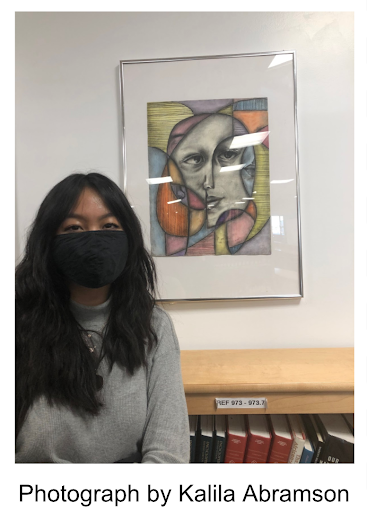 Now we can take away a message from this: Don't limit your creativity. And though it sounds cliche to Madi, it's true. We are so lucky to have an open and free art program that allows students to be creative, and all UNIS members to enjoy their work. Look around the school; there is so much art around you! There's even another piece by Madi in the library. It's completely different from the previous one and follows the style that she usually has. Among other pieces, it brightens up a library hallway. As Mr. Smith believes, "Art in public is like acupuncture – it slightly changes how you're feeling at a certain time." At least for me, when I'm looking out the window in the middle of a class and get a glimpse of A fragment of spiraling reflection, I definitely feel understood.
View Comments (1)
About the Contributor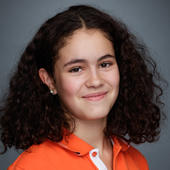 Estela Santos Torres, Copy Editor
I'm Estela and I'm in the class of 2023. I love cooking, reading, and listening to music. I also highly enjoy writing, especially about issues that affect...