Tick Tock! A Climate Countdown – or Lifeline – in Union Square
As we begin 2021, we have to realize that our world is becoming warmer and warmer. On September 20, 2020, "Climate Clock" was installed in Union Square by artists and climate-change activists Gan Golan and Andrew Boyd to count down the time until the effects of climate change become irreversible.
We as a society have known for some time how drastic the issue of climate change is. And although we may not see these ramifications on an everyday scale, they are still there. An urgent warning for change has now been turned into a clock. Previously called "The Metronome," this clock is now a countdown timer. Now, anyone who passes by Union Square on their way to school or to hang out with friends will be reminded that as of January 3rd, 2021, we only have 6 years and 362 days until climate change is a permanent fixture in our lives. Six years and 366 days until everything we do will not only prolong climate change but become irreversible.
The science behind the digits on the clock is based on Earth's carbon budget, which is running out. The Earth's carbon budget is the number of carbon emissions we can put into the atmosphere without the average temperature of the earth increasing by two degrees celsius. But this isn't the only number on the clock. The first one is the countdown until the carbon budget is consumed, and the second is called a "lifeline." This lifeline is the percentage of available energy on earth coming from renewable sources. As of this writing, the lifeline is at roughly 28%. Simply put, the lifeline needs to get to 100% before the countdown is over.
When the countdown gets to zero, sea levels will continue to rise and more wildfires will occur; there will be no going back. For students who go to school in Manhattan, an island surrounded by rising waters, this is extremely worrisome. We have already had a taste of climate change during hurricane Sandy when the UNIS basement flooded. So, the next time you walk by Union Square think about how you may be able to slow that clock down a little and raise the lifeline just a bit.
It may be discouraging to look up at this huge clock, wondering how to actually change one of the numbers. Well, one of the first ways of making a difference is to walk by, instead of speeding past in your Uber or taxi. Cars emit greenhouse gases such as carbon dioxide, which leads to global warming. Another relatively easy step you can take in stopping global warming is recycling! Paying attention to what you put in each colored bin. And one of the most essential things, and also one of the easiest, that will help put a stop to global warming will be being aware. Looking for new ways to cut down your carbon footprint, and raising the lifeline.
Leave a Comment
About the Contributor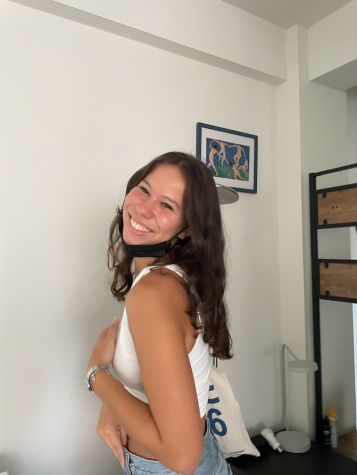 Sofia Tambalotti, Managing Editor
My name is Sofia Tambalotti and I use she/her pronouns. I'm in the class of 2024 and have been at UNIS since JA.