Coronavirus Globally and in New York City
On Monday, March 30th, the number of COVID-19 cases worldwide reached over 745,000, according to Worldometer statistics. The coronavirus has spread throughout the world, reaching and severely impacting all continents. Over the past week, this rapid escalation has caused cities, regions, and whole countries to shut down as a matter of precaution and curb the spread of the virus amongst the population.
Since COVID-19's fervid spread, the virus that causes the illness, SARS CoV-2, is being researched in more labs to obtain genetic information about it. On March 27th, an article in USA TODAY was published confirming that "at least eight strains of the coronavirus are making their way around the globe." This is due to the virus "splitting into similar but new subtypes," referring to the data shown on Nextstrain, a website that tracks and reports pathogen evolution. For now, no strain has shown to be more deadly than the others and it does not appear that they will grow more lethal over time.
According to Kristian Andersen, a professor at Scripps Research, a nonprofit biomedical science research facility in California, "The SARS-CoV-2 is so good at transmitting itself between human hosts, it is under no evolutionary pressure to evolve." In this way, the virus has developed quickly from China to other parts of Asia, the Middle East, then Europe and northern and southern Africa, finally reaching North and South America.
Though Nextstrain mentions that the first cases of Coronavirus appeared around November and December 2019 in Wuhan, China, according to Worldometer, the first reported case was on January 10th. This data shows the uncertainty of when the virus began, but currently, the main objective towards confronting the pandemic is to slow down its spread and increase the cures, while trying to find a medical solution. Countries are taking measures to achieve this, as well as international organisations on a larger scale.
In the Asia-Pacific region, where the virus first appeared, countries went under lockdown weeks ago and continue to do so, as Dr. Takeshi Kasai, the WHO Regional Director for Western Pacific stated, "The epidemic is far from over in Asia and the Pacific. This is going to be a long-term battle and we cannot let down our guard." This situation strongly impacts developing countries, such as India, with "hundreds of thousands of migrant laborers" who "have begun long journeys on foot to get home, having been rendered homeless and jobless by Prime Minister Narendra Modi's nationwide lockdown to contain the spread of the coronavirus," as stated in a New York Times article.
Continuing in Europe, developed countries with a high proportion of elderly population, like Italy and Spain, have faced the highest increases of the virus outbreak. They have also imposed quarantine measures and some countries inside the Schengen Area have started closing their borders. In Africa, at the beginning of the outbreak, only two countries had the resources to test for COVID-19. The WHO has been supporting African governments by supplying them with testing kits and training, and now 47 countries in the African region are able to test for COVID-19.
"Preparedness and response to previous epidemics is providing a firm foundation for many African countries to tackle the spread of COVID-19," states the WHO. Lastly, the situation in North America worsens and for now, the outbreak appears to be bigger than in South America. As of March 26, the USA is the country with the most cases in the world.
The first reported case of coronavirus in the United States was on January 20th (according to Worldometer)—nearly the same time the outbreak arose in China. The infected person had recently been in Wuhan and days after arriving in Washington State, went to a healthcare provider after showing some of the symptoms of the virus. However, before March, the number of cases in the country remained below 400, shown in a graph on Worldometer. The situation has changed with over 160,000 national cases. On March 1st and 2nd, the government extended social-distancing guidelines until April 30th and the Centers for Disease Control and Prevention issued a formal advisory urging residents of New York, New Jersey, and Connecticut to "refrain from nonessential domestic travel for 14 days effective immediately," according to The New York Times. The same day, "a commercial aircraft carrying 80 tons of gloves, masks, gowns and other medical supplies from Shanghai touched down in New York."
New York City is the epicenter of the country, where more contagions and deaths occur daily, as hospitals saturate and schools and public spaces remain closed. The goods that fly in and will continue arriving are essential, as they will be used in a short amount of time and will have to be in much larger quantities if the virus remains for months. The past weekend, temporary hospitals were installed in large spaces throughout the five boroughs, like Flushing Meadows, Central Park, and Javits Center to test and treat patients for COVID-19. On the other hand, today the U.S.N.S. Comfort ship sailed down the Hudson River into Manhattan carrying 1,000 beds in its interior, mainly to treat non-coronavirus patients who require surgeries and critical care, among other things. These measures are numerous attempts to free up medical spaces and cure more infected people. Outside the medical scene, streets and neighbourhoods are mainly quiet. There is still the presence of delivery workers and mailmen bringing food, packages, and mail to people's doors. At 7:00pm., windows open to let out the sounds of clapping hands, cheers, clattering pans, and music to support essential workers. This goes on for more than five minutes. Here lies evidence in times of struggle, the value of a united and supportive community. However, struggles and needs that have not yet been solved or fulfilled are still largely present. The UN states, "A global approach is the only way to fight COVID-19." The world is starting to take action.
Leave a Comment
About the Contributor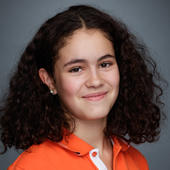 Estela Santos Torres, Copy Editor
I'm Estela and I'm in the class of 2023. I love cooking, reading, and listening to music. I also highly enjoy writing, especially about issues that affect...