Is Completing the IB Beneficial to UNIS Graduates?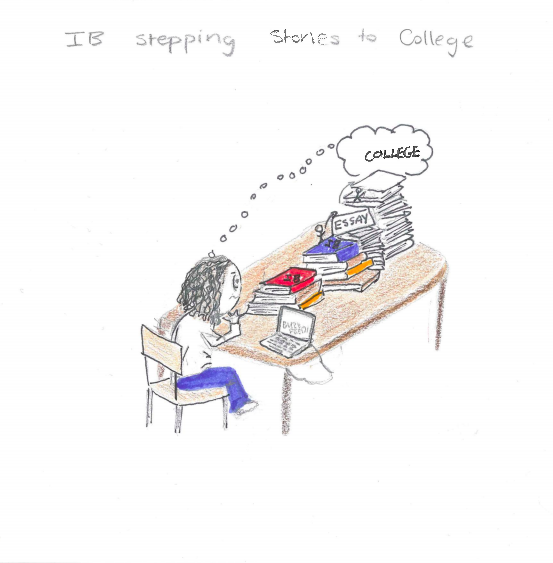 The International Baccalaureate program is known to be extremely challenging for students around the world, including those at UNIS. Current Tut 4 IB student, Niko Filippi, says, "The IB is definitely challenging as we have IAs in every class and exams become cumulative. I think that the hardest part of the IB for me has been reading all the different material given to me and retaining it well, along with the Extended Essay."
But is it worth it?
After speaking with UNIS graduates, it appears as though the IB program is highly beneficial in life after high school. Because the IB program is so difficult, it makes work in college feel relatively easier for IB graduates compared to other college students. UNIS graduate of 2017, Defne Levine, states "The rigor of the IB program really prepared me for college. I came into college with time management and research skills that I learned from the IB." With the multitude of assignments, including Internal Assessments, CAS projects, the Extended Essay, and tests in class, IB participants must learn to manage their time—a skill very useful for college, and beyond. In addition, IB courses often cover work that will also be taught in college classes, which can help make the new experience less stressful.
One of the reasons IB classes feel so difficult is because the content learned is very advanced. IB students often regret taking such challenging courses, but the difficulty of the IB curriculum content is greatly appreciated by graduates when they understand college classes so much better. Oriana Ullman, UNIS graduate of 2017, says "Most people aren't introduced to critical theory in high school and having that foundation has really helped." Some students may even receive credits for certain classes in college from their IB exams, which allows them to take classes they find more interesting or practical to their college careers, and possibly even graduate early with credit from IB classes.
Furthermore, IB high school students are allowed much more freedom in choosing their classes than other high school students, which can help them decide what they want to do further on in life before starting college. If a student loves their higher level classes, they can be reassured that they know what areas to pursue. However, it can be equally beneficial if a student realizes they prefer their standard classes, and therefore choose to pursue those subjects instead. Maya Lewis, UNIS graduate of 2017, took higher Anthropology, higher Film, and higher Language and Literature. She said that taking these classes has greatly helped her in college because of the material covered and the assignments given. She is a Film, Photo, and a Visual Arts major with a minor in Women and Gender studies and was assigned an academic essay on a topic she was able to choose. She states, "The layout was very similar to when I wrote my anthropology extended essay because I had experience writing such a long paper and doing so much research." This shows how not only IB classes, but also other IB assignments can help in college and beyond.
While completing the IB program takes a lot of hard work, the commitment and effort is extremely valuable in life after IB, especially in college. The work completed in the IB program is stressful and time-consuming, but this prepares students for what is to come in college and ultimately makes the transition much smoother.
Leave a Comment