5 Reasons to Join the TH Environment Club
Are you an eco-warrior? Are you outraged when people buy cartons of bottled water? Are you furious when people toss paper plates, aluminum foil, and food remnants together in the same garbage bin? Do you spend sleepless nights worrying about the future of pandas because their habitat is being destroyed? If the answer is yes to any of these questions, then the newly launched TH Environmental Club is the right place for you. Now, let's get to the five main reasons to join the club.
1. Become An UNIS Green Guide
You can become one of the UNIS Green Guides — a brigade that will work to actively "greening the blue" so that UNIS can join the network of "zero waste schools." We are working together with teachers, administrators, the cafeteria staff, and others to reduce our carbon footprint. Training sessions for the UNIS Green Guides were held on January 24th and January 31st this year. Don't worry if you missed it, more training sessions will take place in the future. After the training, you can sign up for service opportunities during lunch period.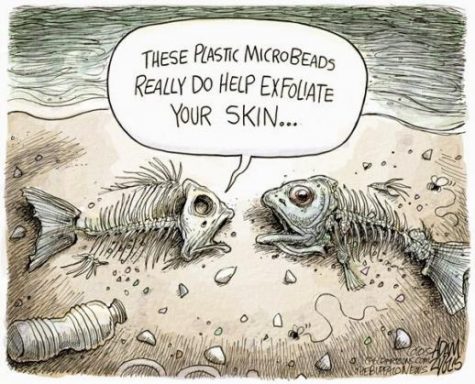 2. Learn More About Sustainable Fashion
As a fashion-forward metrosexual or a fashionista, you can also be at the forefront of the fight to save our environment. For example, did you know that the microbeads in your shower gel or exfoliating face wash threaten the environment and even our health? These tiny pieces of plastic will go down the drain and eventually flow into our lakes, rivers, and oceans. They absorb toxins in the water and can be eaten by marine life, which may end up on our plates. As the UN is trying to promote Sustainable Fashion, we want to be a part of this important conversation and to invite experts from the fashion (and cosmetic) industry, in order to make more informed decisions as consumers ourselves.
3. Join the Club to Be Cool
Climate Change is one big global challenge that affects each and every one of us, even in UNIS. Remember Hurricane Sandy? UNIS was flooded and closed for almost two weeks. If you are interested in such global issues, then the Environmental Club must fit my appetite. The club will participate in the New York Youth Climate Summit – a great opportunity to connect with other schools and other high school environmental clubs. You can learn more about what we can do to prevent a 2-degree rise in global temperatures and increase your cool quotient at the same time!
4. Inspire People to Make Themselves Accountable
"Everyone can, everyone counts" is the motto of the Environmental Club, and we aim to unleash the power of individual action. We all are concerned about the environment but we feel kinda helpless because we think that it's a gigantic problem and that only actions taken by large institutions matter – the fossil fuel companies and (of course) the government. But, we can make a difference through our own actions (e.g., carry a reusable water bottle, bring bags from home when we go shopping, or switch off the lights when we leave a room). When you join the club, you'll help advance the movement of making everyone count! We'll be using Facebook and Instagram to share our individual actions every single day for inspiration. As a member of the club, you'll be invited to upload a photo of anything you do that helps the environment, with the hashtag that we'll design later on.
5. Community Service, Community Service, Community Service…
For those who are juggling multiple assignments, racing against impossible deadlines, the school's requirement about community service/CAS might seem very demanding. If this is the case for you, the Environmental club can help you out! The club provides a lot of CS opportunities and can serve as your CAS project. For example, the Green Guides will get CS hours when they help reduce waste at UNIS. You can also get CS hours if you help organize workshops during the Annual UNIS-UN conference in March. Anyway, sign up for club membership for more information!!!